KAIJIN KARATE CLUB
Welcome to Kaijin Karate Club, we have been training since 2000.  Karate is a martial arts whose aim is the harmonising of mind and body for balance, strength, perseverance, patience and self-mastery.  We have many students with high grades and black belts with a good mix of adults and children. 
Our Karate dojo is based at Kaijin Community Centre, Funabashi, Chiba-pref. (6-3-36, Kaijin, Funabashi-city)
Our classes are Monday 18:00-21:00.  Please send us an email to check timetable for more detail. 
Last updated on 1 October, 2021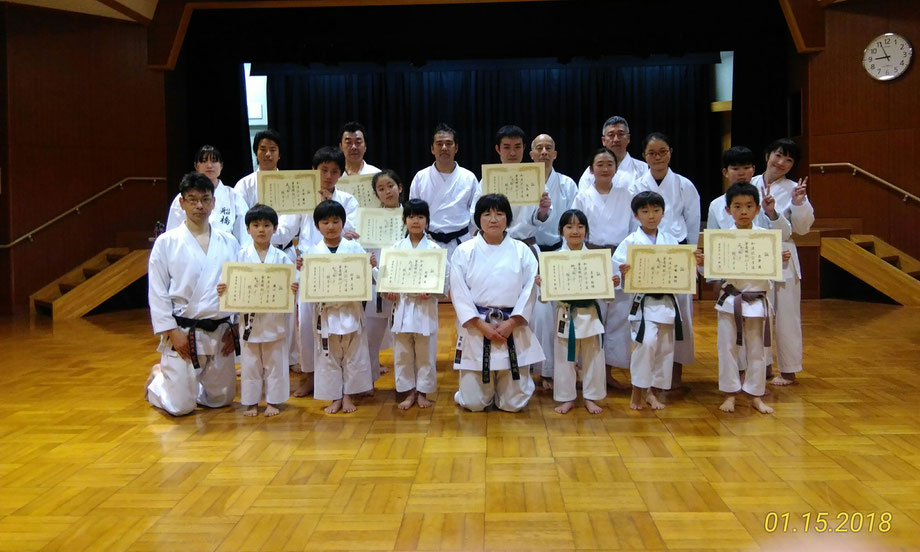 Our club appears in a local sports magazine!!!
Oct-Nov 2017 Edition, Yellsports Chiba
Extracted article is available only in Japanese
20170930 Yellsports千葉.pdf
TRAINING FOCUS
Training session consists of followings
1.    Warming-up (Running, Circuit Training)
2.    Step training
3.    Basic Movements (Punch and Kick)
4.    Kata
(*)Free-sparring (Kumite) session based on soft contact rule is held occasionally. 
Ladder drills don't only add an exciting component to a karate class, but help develop vitally important skills for us namely agility, speed and balance.
We put tremendous focus on the fundamentals, practicing step-by-step the proper posture, balance and angle of each specific movement.
Pinan 2 dan is the first kata we learn at our club, which is the most important kata to develop fundamental technique.
Pinan 5 dan is the most popular kata performed by kids at the tournaments.
Chinto is one of the most competitive wado style kata widely performed at the official tournament.
Uchikomi training aims to practice punch, kicks or combination technique against a partner not in move.
These movies above are from the community centre festival of Kaijin Public Hall held on 21 October, 2017.  Our club made karate performance to the local community.
Newcomers are always welcome at the Kaijin Karate Club.  If you are a visitor and wish to attend a free trial lesson, please contact us via e-mail for appointment.
Additional classes occur regularly, especially for events such as Seminars, Grading and Competitions.  These will be advised during class and via our website.   
ABOUT
Kaijin Karate Club is one of the five branches managed by Wado-Ryu Funabashi as a non-profit making organisation, which is a long standing Karate club training in the traditional Wado-Ryu style of Karate over 70 years.  We are directly affiliated with Japan Karatedo Federation ("JKF") and International Federation of Wado-Ryu Karate Do Organisation, allowing our students access into major official competitions held all over Japan.
Our style of Karate is Wado-Ryu which is one the four main styles that the World Karate Federation recognises.  In accordance with traditional based rules recognised by JKF, we practice soft contact free-sparring ("Kumite") in an amicable atmosphere.
INSTRUCTOR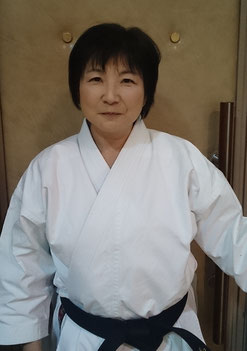 Sensei  Sonoko Kasahara
Grade: 6th Dan of Japan Karatedo Federation
           4th Dan of International Federation of Wado-Ryu Karate Do Organisation
Director of JKF ("Japan Karatedo Federation"), Chiba-district
Official coach of JASA ("Japan Athlete Sport Association")
JKF official examiner, Level 3
KARATE FOR KIDS
Karate for children is not only to enhance physical ability, it also provides many important benefits to learn mutual respect, discipline, self-control, concentration and goal setting.  We have a great group of children who range in skill from white belt to black belt.  Karate is a sport most children carry into adulthood and gives them a life-long club they can belong to and the chance to meet and make friends from all around the world - friendships that endure for life.  Children aged over 6 can join our regular training session.
PRE-SCHOOL KIDS CLASS
We provide special class catering for pre-school kids, twice a month on Monday from 16:30-18:00 at Kaijin Public Hall.  Children practice kicking, punching, blocking, yelling, stretching, running and jumping during each interactive class.  Parents are more than welcome to practice with kids.  This is a great entry for kids before joining regular training session.
FEES
Admission Fees : 2,000yen
Monthly Fees: 3,000 yen for adults / 2,500 yen for children (*family discount is available)
Annual Sport Insurance: 1,850 for adults / 800 for children
CONTACT
Karate is a journey and one that can be begun at any age.  We also welcome members from other styles of Karate who would like to swap styles to Wado-Ryu.  Whatever motivation for joining, you will be warmly welcomed and encouraged to strive towards being the best you can be.
If you would like more information, or would just like to ask about coming to view a class, please feel free to contact us. 
・E-mail:wadoryu.f.hamacho@gmail.com